Apple Orchard Punch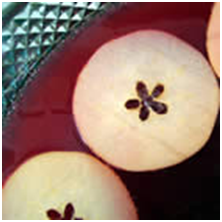 A non-alcoholic punch combining apple, cranberry and orange juices with ginger ale.
Categories:
Ingredients
1 (32 fluid ounce) bottle apple juice,
chilled
1 (12 fluid ounce) can frozen cranberry
juice concentrate
1 cup orange juice
1 1/2 liters ginger ale
1 apple
Directions
1.In a large punch bowl, combine apple juice, cranberry juice concentrate and orange juice. Stir until dissolved, then slowly pour in the ginger ale.
2.Thinly slice the apple vertically, forming whole apple slices. Float apple slices on top of punch.
Nutritional Information
Servings Per Recipe: 12 ,Calories:5.93 oz ,Total Fat:0.004 oz ,Cholesterol:0 grain ,Sodium:0.01 grain ,Total Carbs:1.486 oz ,Dietary Fiber:0.018 oz ,Protein:0.007 oz ,:,