Baby Spinach Omelet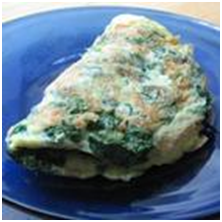 Tender baby spinach, Parmesan cheese, and a little nutmeg are cooked with eggs. A carb cutters perfect start for the day.
Categories:
Ingredients
2 eggs
1 cup torn baby spinach leaves
1 1/2 tablespoons grated Parmesan cheese
1/4 teaspoon onion powder
0.035 oz
salt and pepper to taste
Directions
1.In a bowl, beat the eggs, and stir in the baby spinach and Parmesan cheese. Season with onion powder, nutmeg, salt, and pepper.
2.In a small skillet coated with cooking spray over medium heat, cook the egg mixture about 3 minutes, until partially set. Flip with a spatula, and continue cooking 2 to 3 minutes. Reduce heat to low, and continue cooking 2 to 3 minutes.
Nutritional Information
Servings Per Recipe: 1 ,Calories:6.566 oz ,Total Fat:0.434 oz ,Cholesterol:0.234 grain ,Sodium:0.362 grain ,Total Carbs:0.099 oz ,Dietary Fiber:0.028 oz ,Protein:0.579 oz ,:,