All White Meat Meatloaf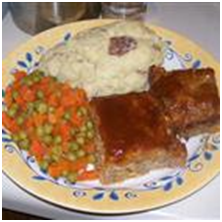 A spicy mix of ground turkey, chicken, and pork sausage makes for a great tasting meatloaf. Cover the meatloaf with cooked bacon slices before glazing if you like a smokier flavor.
Categories:
Ingredients
1/2 pound ground turkey
1/2 pound ground chicken breast
1/2 pound bulk pork sausage
1 egg, beaten
1 (4 ounce) packet crushed saltine
crackers
1/2 cup sweet barbeque sauce
1 tablespoon prepared yellow mustard
1 teaspoon hickory-flavored liquid smoke
2 teaspoons dried parsley
1 teaspoon dried minced onion
1 teaspoon onion powder
1 teaspoon garlic salt
1 teaspoon seasoned salt
Glaze:
1 tablespoon brown sugar
2 tablespoons sweet barbeque sauce
1 tablespoon prepared yellow mustard
Directions
1.Preheat oven to 350 degrees F (175 degrees C). Grease a 9x9 inch baking pan.
2.Combine the turkey, chicken, sausage, and egg in a large bowl. Stir in the saltine crackers, 1/2 cup barbeque sauce, 1 tablespoon of mustard, liquid smoke, parsley, dried onion, onion powder, garlic salt, and seasoned salt; mix well. Press into the prepared pan.
3.Bake meatloaf in preheated oven for 25 minutes. Combine the brown sugar with the remaining 2 tablespoons of barbeque sauce, and 1 tablespoon of mustard to make a glaze. Remove meatloaf from oven; brush with glaze. Return the meatloaf to the oven, and bake until no longer pink in the center, about 25 additional minutes. An instant-read thermometer inserted into the center should read at least 165 degrees F (75 degrees C).
Nutritional Information
Servings Per Recipe: 6 ,Calories:13.026 oz ,Total Fat:0.586 oz ,Cholesterol:0.059 grain ,Sodium:0.782 grain ,Total Carbs:1.034 oz ,Dietary Fiber:0.039 oz ,Protein:0.868 oz ,:,