Artichoke, Cheese and Olive Antipasto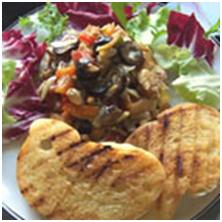 Serve with crusty bread slices that have been toasted in the oven until crisp for dipping into the marinade. Keeps for a week in the refrigerator and the longer it stands the better it gets
Categories:
Ingredients
3 (6.5 ounce) jars marinated artichoke
hearts, undrained
1 (12 ounce) jar roasted red bell peppers,
drained and sliced
1 (15 ounce) can black olives, drained
1 pound smoked provolone cheese, diced
1/3 cup olive oil
1/2 cup balsamic vinegar
1/2 teaspoon dried oregano
1 clove garlic, finely chopped
1 pinch salt and pepper to taste
8 fresh basil leaves, cut into thin strips
Directions
1.Pour the jars of artichoke hearts with their liquid into a 1 1/2 quart or larger container with a tight sealing lid. Add the bell peppers, black olives, and provolone cheese.
2.In a medium bowl, whisk together the olive oil, balsamic vinegar, oregano, garlic, salt and pepper. Pour over the ingredients in the container. Seal the lid, and refrigerate for at least 3 hours, shaking gently about once per hour.
3.To serve, allow the mixture to come to room temperature. Soon onto serving plates, and top with basil shreds as a garnish.
Nutritional Information
Servings Per Recipe: 8 ,Amount Per Serving :,Calories: 428 , :, Total Fat:1.158 oz , Cholesterol:0.028 grain , Sodium:0.764 grain , Total Carbs:0.579 oz , Dietary Fiber:0.159 oz , Protein:0.625 oz ,:,